Help us support manatees undergoing rehabilitation at Wildtracks Belize during these challenging times
With the current pandemic affecting every aspect of life worldwide, our manatee rehabilitation partners need our help more than ever.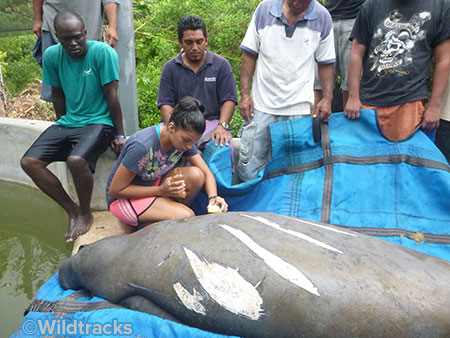 Manatee Ben receiving care from Wildtracks staff and volunteers. Photo courtesy of Wildtracks.
Dear Friend,

Wildtracks Belize relies primarily on volunteer help for the care of their manatees, howler monkeys and spider monkeys. The team is currently caring for 5 manatees in various stages of rehabilitation. Due to the COVID-19 crisis and restrictions on travel, none of the volunteers scheduled for the month of April are able to travel, and unfortunately the group does not have the funding to take on additional local staff. In addition, Paul and Zoe Walker, founders of Wildtracks, are increasingly concerned about a regional lockdown on travel before they have a chance to stock up on the critical supplies necessary to care for the animals undergoing rehabilitation.

Save the Manatee Club has been a long-term partner of Wildtracks Belize and we are dedicated to providing emergency assistance in this situation. Wildtracks needs a minimum of $5,000 to keep their manatee program up and running. Your help in providing these funds will support the purchase of three months stock of "Cool Cow" - an essential component of the daily manatee diet; fuel for the water cooler; a stipend for bringing a local manatee caretaker in from the small town of Sarteneja; cleaning supplies for the pools; support for the manatee team; and, a trip to collect local water hyacinth plants for the manatees currently in care at Wildtracks.

Nugget is one of five manatees currently receiving care at Wildtracks Belize. Photo courtesy of Wildtracks.
All manatees at Wildtracks are making good progress on their path to full release back out into the wild, and with your help we can help ensure this remains the case. Mitch, Lucky, and Khaleesi are free in the adjacent lagoon and only come back to Wildtracks occasionally. Hope, Chikki, and Callie are on soft release in the lagoon, still spending the nights in the enclosure and receiving additional feeds daily. Sandy has been moved into the lagoon enclosure recently to join the "big girls" and Nugget is "lovely, chubby, and playful" according to Zoe Walker, but still needs essential care on his way to release.

Sadly, we are anticipating many additional needs to safeguard manatees in the coming days and deeply appreciate knowing we can count on our vital supporters to overcome the challenges before us.
For the manatees,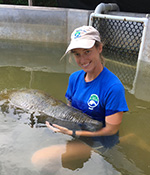 Cora Berchem
Director of Multimedia & Manatee Research Associate