See the latest photos and video, get Manatee Q & A, and more!
View this message on our website.

FOLLOW US:


June 2017 | Paddle Tales eNewsletter
It's A Fact
Manatees are herbivores, feeding on a large variety of submerged, emergent, and floating plants. Get more facts.
Go Big This Father's Day


Adopt Whiskers, Gator, or another manatee for your dad.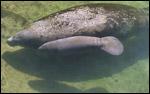 Amber's New Calf
Amber is a manatee success story. Rescued as a calf at Blue Spring State Park, she was later released back into the wild. Recently, Amber brought a little calf to the park in April. See photos and video.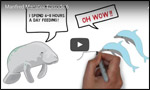 Learn With Manfred Manatee
Do manatees "talk?" Why do they need to stay warm? And what do they eat and drink? Learn the answers to these questions and more in short, one-minute animated segments. Watch the videos.
Manatee Sightings
See photos and video from the 2016 – 2017 manatee season, including Aqua, Margarito, Brutus, and Lucille. Plus, more of Lemon and her calf Lime, and a cutie-pie calf explores. View now.
Manatee Q & A
Q. Do manatees make any audible sounds to communicate with each other, like dolphins? -- Emily from Florida. Get the video answer. Send your question and if we feature it, you'll get a free 2018 calendar!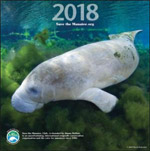 Save 50% On 2018 Wall Calendar
For a limited time only! Each month of the year features a beautiful underwater manatee photo plus a 13th bonus image. Only $7.49 each if you preorder by June 30th. A nice present for family and friends and a great way to spread the word about manatees! Shop now
| Adopt-A-Manatee® | Donate Now | Contact Us | Home |
Photo Credits: It's A Fact ©David Schrichte; Amber's New Calf

©Cora Berchem,

Save the Manatee Club

; Manfred Manatee

©

Save the Manatee Club

; Manatee Sightings

©Wayne Hartley,

Save the Manatee Club; Manatee Q & A ©Save the Manatee Club; 2018 Manatee Wall Calendar Cover Photo

©David Schrichte

. Photos and illustrations can only be used with permission. Contact Save the Manatee Club for more information.