See the latest photos and video, get Manatee Q & A, and more!
View this message on our website.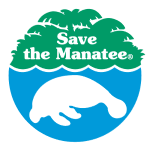 FOLLOW US:


February 2018 | Paddle Tales eNewsletter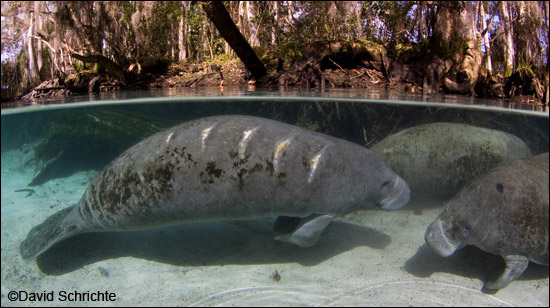 It's A Fact
Because manatees are slow-moving, need to surface to breathe air, and prefer shallow water, they are vulnerable to collisions with boats. In the last two years, a record number of Florida manatees were killed by watercraft collision and still more sustained non-lethal injuries from watercraft. Learn more and get resources for boaters.
| | | |
| --- | --- | --- |
| Support Our Mission: | | |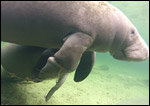 A Tangled Tale Of Two Manatees
The story of a manatee suffering from entanglement had a happy ending when the manatee and her calf were released into the wild at Blue Spring State Park in December. Learn more.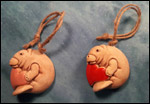 Who's Your Favorite Valentine?
Adopt-A-Manatee® for someone you love and get an adoption certificate, photo, and life history of a real Florida manatee. When you adopt at $35 or more, a handcrafted heart ornament is also included. Adopt now.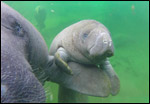 Manatee Sightings
See some cutie calves, a photo of an unusual manatee and alligator interaction, and a funny video of a manatee playing with a stick. Plus, we've got recent photos and videos of the Blue Spring adoptees. View now.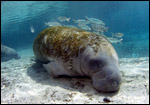 Manatee Q & A
Q. Since manatees need to come up for air occasionally, what happens when they sleep? – Marie from CA. Get the video answer and learn the science behind how manatees "sleep." Send us your manatee question!
Necklace
The manatee is handmade from blue dichroic glass on an 18" black satin cord with a barrel clasp. A nice idea for a Valentine's Day gift. Shop now.
| Adopt-A-Manatee® | Donate Now | Contact Us | Home |
Photo Credits: It's A Fact ©David Schrichte; A Tangled Tale of Two Manatees

©Wayne Hartley,

Save the Manatee Club

; Manatee Heart Ornament design by Kevin Rowley; Manatee Sightings

©Cora Berchem,

Save the Manatee Club; Manatee Q & A ©David Schrichte. Photos and illustrations can only be used with permission. Contact Save the Manatee Club for more information.