Your help makes all the difference!
View this message on our website.
Pictured above: Lucky, who arrived at Wildtracks as an emaciated orphan, receives a bottle feeding consisting of replacement milk formula.
Celebrate the Season with a Gift-In-Kindness

Each year, Save the Manatee Club calls on our donors' generosity to help us purchase items vital to helping manatees in need, both at home and internationally. And each year our donors selflessly answer the call to ensure rescued manatees in need receive the critical care they require.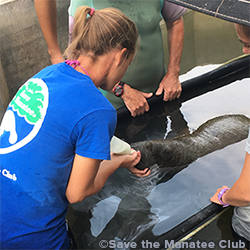 Cora Berchem, a Save the Manatee Club staff member, volunteers at Wildtracks feeding a rescued calf named Sandy.


Wildtracks, the only manatee rehabilitation facility in Belize, is a major recipient of items from our Wish List. At any given time, Wildtracks cares for half a dozen manatees, some from the time they are tiny calf. One of their primary needs in the rehabilitation of orphaned manatees is replacement milk formula, a nearly impossible item to find locally in Belize. Your purchase of this formula from our Wish List helps to ensure emaciated orphan calves grow into 1,000-pound adults ready to be released back into the wild.

This year's Wish List also includes items needed by our intrastate Manatee Rescue & Rehabilitation Partnership (MRP) members working to rehabilitate sick, injured, and orphaned manatees; our manatee rescue and rehabilitation partner in Haiti; and for our in-office staff and volunteers so that we can work efficiently and effectively toward our mission and goals.

We hope you will join us again this year in our efforts to protect and preserve manatees worldwide by visiting Amazon.com where you can find our extensive Wish List of needed items. Monetary donations can also be made to our International Rescue Fund or Emergency Rescue Fund to help fund larger items, such as the manatee transport trailer the Club helped Wildtracks purchase this summer, and to assist with the costs of shipping donated items internationally.

Every year, the amount of formula, supplies, and donations we receive shows us just how much our members care about these magnificent animals. After four years of managing our Wish List project, the overwhelming generosity of our supporters continues to inspire me. If you are able, please help us this holiday season by continuing to support this vital work.

With endless gratitude,




Cheyenne Canon
Program Project Coordinator
Make the most of every purchase on Amazon by using AmazonSmile and selecting Save the Manatee Club as your charity of choice. Shop on your computer at smile.amazon.com or on the Amazon App on your Android device. In your Amazon App go to Settings, select AmazonSmile, then follow the on-screen steps.