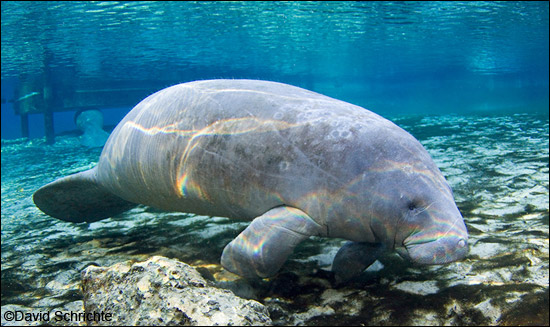 It's A Fact
The bones in a manatee's flipper are similar to a human hand. The jointed "finger bones" of the flipper help the manatee move through the water, bring food to its mouth, and hold objects. See the flipper bones. Discover more.
Run For The Manatees!


Join the 2021 5K Virtual Run. You can walk, bike, swim, or do the activity of your choice anytime and anywhere!
Meet Lesley, Our New Adoptee
Lesley proves the resiliency of manatees. After a severe infection from a boat hit injury, she needed several surgeries and almost three years in rehabilitation. She is now available for adoption. Learn more.
Tee Up for Manatees
Join us for the 1st Annual Save the Manatee Golf Tournament on May 1st in New Smyrna Beach, Florida. All proceeds benefit our conservation efforts. Sign up to golf, sponsor a hole, or donate prizes! Check it out.
Manatee Sightings
See an adorable video of Shalane's little calf and dramatic footage of a big cavorting group. East coast adoptee Millie was also sighted. And get the latest pics and videos of the Blue Spring adoptees. View now.
Manatee Q & A
Q. Do manatees have teeth? Watch a video to get the answer. Send us your manatee question. If we feature it, you'll get a free gift!
Coloring Book
Relax and color manatees to your heart's content with the Manatee Coloring Book by artist Connie Roy. Over 30 pages of charming illustrations, line drawings, and repeating patterns. A nice gift for kids and adults, too! Shop now.
Don't Miss...
The Manatee Activities Sheet. Download and print the pdf document. Then color and make manatee ornaments, stickers, pins, bookmarks, and even a sponge bath toy. A fun way to learn about manatees!
| Adopt-A-Manatee® | Donate Now | Contact Us | Home |
Photo Credits: It's A Fact ©David Schrichte; Meet Lesley

©Wayne Hartley, Save the Manatee Club;

Tee Up for Manatees photo

©David Schrichte;

Manatee Sightings ©Save the Manatee Club; Manatee Q & A ©Cora Berchem, Save the Manatee Club; Manatee Coloring Book illustrations ©
Connie Roy

.
Photos and illustrations can only be used with permission. Contact Save the Manatee Club for more information.