It's A Fact
Based on the internal structure of their eyes, which possess rods and cones, manatees have color vision. Discover more.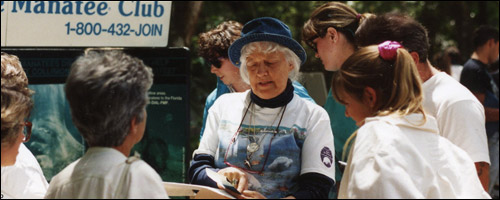 Manatee Lady

In April, the manatees lost one of their strongest and most heartfelt advocates when Helen Spivey passed away at age 94.


Zelda Joins Adoption Program
In May, a new adoptee was added to Save the Manatee Club's Adopt-A-Manatee® program. Her name is Zelda, and she has been sighted in recent years in the Florida Keys. Check it out.
Keep Me Tangle Free!
Tama, Una, Mr. Baby, Schwinn, Lucille, and Margarito all became entangled in fishing line, hooks, and other debris. Learn their stories and what you can do to help. Go.
Manatee Sightings
Gigi and Mata Hari have brand-new calves! We also received sightings of manatees in the Wekiva River, and Gator, Margarito, and Lily popped in for recent visits. View now.
Manatee Q & A
Q. Do manatees ever have twins or triplets? Watch a video to get the answer. Send us your manatee question. If we feature it, you'll get a free gift!
Don't Miss the Fun!
Sign up for the 2022 Virtual Save the Manatee 5K. Join participants from all across the globe who are going the distance for manatees. You choose the time, place, and activity. Register today.
Save 50% when you pre order our 2023 wall calendar by June 30, 2022. Features beautiful manatee photos for every month of the year. Shop now.


| Adopt-A-Manatee® | Donate Now | Contact Us | Home |
Photo Credits: It's A Fact ©David Schrichte; Manatee Lady ©Save the Manatee Club; Zelda Joins the Adoption Program courtesy Jennifer Chandonnet; Keep Me Tangle Free! ©Wayne Hartley, Save the Manatee Club; Manatee Sightings courtesy Morgan Quattrociocchi; Manatee Q & A courtesy USGS Sirenia Project; Manatee 5K courtesy Arizona participants
.
Photos and illustrations can only be used with permission. Contact Save the Manatee Club for more information.