Manatee news, activities, photos, videos, Q & A, and more!
View this message on our website.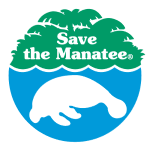 October 2022 | Paddle Tales eNewsletter
It's A Fact
Manatees make sounds underwater that they use to communicate. These sounds are best described as whistles, chirps, and squeaks. Vocalization is most common between mother manatees and their calves. Learn more, and listen to recorded manatee sounds.
More Manatee Sightings in the Wekiva River
Rising water levels from increased rainfall have given manatees access to habitats, such as the Wekiva, where they are not frequently seen.

Learn more

.
Caption Contest
What is this manatee doing? Submit your best caption for this and three other photos and be eligible to win a Save the Manatee Club t-shirt! Submit your caption now.
Please Keep Your Distance from Manatee Mating Herds
Coming across a manatee mating herd can be exciting, as they often involve lots of dramatic splashing and churning of water. But disturbing a herd can harm manatees and humans alike. Read more.
Manatee Q&A: How many species of manatees are there?
You probably know that West Indian manatees belong to the order Sirenia… but how much do you know about other species of Sirenians? Join SMC's Director of Multimedia & Manatee Research Associate Cora Berchem to learn more! Watch here.
Don't Miss: New Adoptee Profiles!
We've made some updates that make it easier than ever to learn more about the manatees in our adoption program—from Ariel to Zelda and everyone else in between. Check out each manatee's profile to view scar charts, identifying photos, and any available videos. Visit the Adopt-A-Manatee page for more.
Looking for items that will help you live a more eco-friendly lifestyle? Check out our totes, including our Organic Market Tote! Shop now.


Photo Credits: Photo Credits: It's A Fact ©Cardelucci; Wekiva River courtesy Jillian Conley; Caption Contest ©David Schrichte; Mating Herds ©Cora Berchem, Save the Manatee Club; Adoptee Profiles, Ariel ©Save the Manatee Club. Photos and illustrations can only be used with permission. Contact Save the Manatee Club for more information.